Gold Investment recommends that investors take the different prices quoted for gold into account when deciding to invest in gold. This is in terms of the monetary value and not the collector's value.
Spot price of gold
The spot price of gold gives the investor a pretty good idea of what he/she can expect to pay for gold at the moment. Without going into much of the technical detail, the gold spot price / spot gold price / current gold price / market price / world gold price is basically in reference to the price you will currently pay for gold in the market per fine ounce of gold. This is normally the price which is quoted on stock exchange billboards, in newspapers, over the radio, on TV, etc.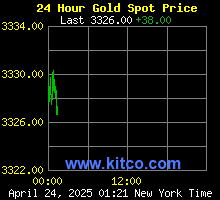 Gold Prices quoted for specific forms of gold
We also recommend that investors, depending on the form of gold they want to invest in, keep a keen eye on the gold prices quoted for specific forms of gold such as the current price of a Krugerrand, etc.
 Gold Price quoted in terms of the purity of gold
Another important factor to consider is the forecast prices of gold in terms of the purity of gold, especially if you're planning to buy gold bullion coins. The forecast prices will also give you a good idea of how much you can expect to pay for gold jewellery.
In addition to the above, potential investors need to take into account, that although gold bullion coins trade close to the world gold price, it is never 100% the same. The reason for this, is because you can expect to pay a premium (5%-8%) above the current world gold price when you buy, and vice versa, the day you decide to sell. It is also advisable to take the collector's value into consideration when buying/selling gold bullion coins. Except for the collector's value, you can expect to pay similar dealings costs when you buy/sell gold bullion bars (gold bars).
Gold prices are normally quoted in USD
This makes a reliable currency converter an essential tool for private investors in South Africa who needs to convert from USD to ZAR.